Tuesday, November 1 – Thursday, November 3rd
8am-5pm Daily
Halloween Candy Buy Back Program
 What do kids love MORE than sugar?  Cold, hard cash!
What does Dr. Norris love more than bribing his patients with cold, hard cash in an effort to avoid tooth decay from the massive sugar consumption following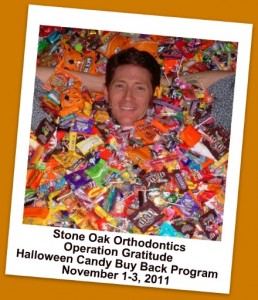 Halloween? Showing gratitude!
So, in honor of the upcoming Halloween celebration of tricks, treats, candy and cavities, Stone Oak Orthodontics has teamed up with the national Halloween Candy Buy Back Program and Operation Gratitude to give our patients an opportunity to really maximize their bounty! In an effort to set a great example for the next generation and promote a safe and healthy Halloween, Dr. Norris will buy back the candy you collect this year!
Swing by our Stone Oak Office with your Halloween Candy and Dr. Norris will pay you $2.00 for every 1 pound of candy. $1 per pound will go in your pocket. The other $1/pound and all the candy will be given to Operation Gratitude, who will then ship the goodies to active military service men and women. Last year the National Halloween Candy Buy Back Program received and shipped out 125 TONS! We hope you will participate in this worthwhile and fun activity!Please consider including a card or letter of thanks to a soldier as these care packages will be distributed over the holidays!THANKS FOR YOUR SUPPORT!