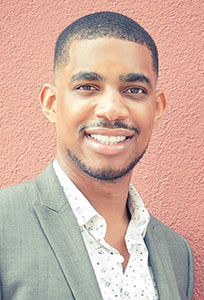 Early Life
Born in Panama City, Panama, Dr. Ray Caesar is bilingual and comfortable communicating in both English and Spanish. The son of a soldier, Dr. Caesar relocated to San Antonio in 1992 with his family when his father was stationed at Fort Sam Houston. While living here, he achieved the rank of Eagle Scout with Boy Scout Troop 23 and was an avid member of the St. Anthony's parish.
Dr. Caesar and his parents were active participants in their church, feeding the homeless around the holidays and dedicating weekends to serve others less fortunate. Dr. Ray's father was an Army Medic and his mother is a dentist, therefore, healthcare has always been familiar to him. However, it wasn't until he was groomed by Dr. Norris that his love for orthodontics began to take root.
Education and Credentials
Dr. Caesar moved to North Carolina to attend Duke University for his undergraduate studies where he was converted into a die-hard Duke Basketball fan and later represented the university as a center midfielder of the club soccer team. After receiving his undergraduate degree, he spent a year living abroad in Paris, France before returning to Texas to attend the University of Texas Health Science Center San Antonio where he graduated with a distinction in Teaching Honors.
Dr. Caesar engaged in research efforts regarding orofacial myology while in dental school, and co-authored a landmark article published in 2013 regarding esthetics in orthodontics (Norris R, Caesar R: Esthetic Substitution and Autotransplantation of Teeth in the Maxillary Anterior Region. Seminars in Orthodontics, Vol 19, No 1 (March), 2013: pp3-12.). Near the conclusion of dental school, his passion for Obstructive Sleep Apnea/Sleep Disordered Breathing grew stronger. He dedicated his research thesis to studying the implications of tongue form and function on Sleep Disordered Breathing.
A Stone Oak Asset
Dr. Caesar's journey with the Stone Oak Orthodontics family began when he returned home to San Antonio for summer vacation following his first year of college. After shadowing Dr. Norris for only a week, he formed a unique bond with the team and the relationship has continued to blossom over the last 10 years! The opportunity to be individually trained by Dr. Norris gave Dr. Caesar the desire to learn with the same orthodontic philosophy as him. He was able to make that dream a reality when he began his training at Howard University in 2016. Dr. Caesar went on to earn the Resident of the Year award his 1st year of residency and later served as Chief Resident for his graduating class.
Outside The Office
Dr. Caesar still enjoys staying active through soccer, volleyball, hiking, and any water activities. He is excited to be back in San Antonio to cheer on his Spurs, enjoy live music all summer long, and officially join the Stone Oak Orthodontics' team as Dr. Norris's partner!
We are privileged to have Dr. Caesar as part of our Stone Oak Orthodontics family.