Orthodontist Dr. Tito Norris and his staff at Stone Oak Orthodontics strive to craft more than just beautifully aligned teeth, they give opportunities for the nurturing of the whole patient. In just one example (as shown here) office procedures allow a waiting sibling to jot a quick note of gratitude to a service man or woman, seal it in an envelope and drop it in a box to be delivered by Dr. Norris to military personnel.
Glancing up at her mom with a curious grin, Claire Walston (age 6) indicates she is done with her thank you card for American service personnel. The letter was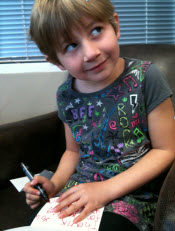 generic: "Thank you for keeping us safe. Love, Claire." The teachable moment: profound. Character training for the next generation of America's leaders is taking place in an orthodontic practice in San Antonio, TX.
What seems a small gesture, and takes only minutes to complete, actually gives the patient (or in this case the sibling) a chance to develop an attitude of gratitude, experience personal leadership skills, and to seize the teachable moments in everyday life. In the five or so minutes Claire spent writing her thank you note, she asked a half-dozen questions about the who, what, when, where and why of the "letter project."
This nurture the whole patient approach to orthodontics is what sets Dr. Norris apart from others in his profession. This mindset is outside the scope of medical school textbooks and dental board examinations, and yet it is a huge part of the office experience at Stone Oak Orthodontics. In this case, patrons like Claire are afforded the opportunity to develop personal leadership skills. Her natural curiosity regarding a "letter project" resulted in her experiencing what we all know as satisfaction and personal integrity. She found a chance in her day to bless someone else, to make a difference, to pay it forward. She grabbed it by the horns, asked all the right questions about the experience, and kept herself open to growth, to learning, to loving, to thanking. Claire expected nothing in return.
And all thanks to Dr. Norris for simply setting out a sign, some thank you cards, some markers and a box.