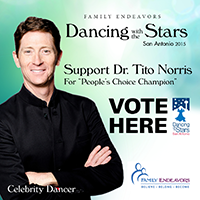 Dr. Norris will be participating in the Dancing with the Stars San Antonio Gala on September 26th at the SA Shrine Auditorium. The event is a fundraiser for the non-profit agency Family Endeavors. Dr. Norris and his dance moves will represent Stone Oak Orthodontics and join seven other "celebrity dancers" from the San Antonio area.
In addition to a dance competition at the gala, there will also be a "People's Choice Award" given to the celebrity dancer with the most votes from the public. Show your support by voting for Dr. Norris here. Votes are $2 each and you can place as many votes as you want!
You may also purchase tickets to the gala for $150 each, and select Dr. Norris when buying your ticket. Tickets include a three-course dinner, seats for the Ballroom Dance Competition Showcase, and an open dance floor. Here is a link to purchase tickets.
All proceeds from Dancing with the Stars San Antonio will go to the non-profit agency Family Endeavors. 100% of the funds raised will be used to provide charitable services.
Family Endeavors provides an array of programs and services in support of children, families, Veterans and those struggling with mental illness and other significant disabilities. The mission of Family Endeavors is to provide comprehensive, effective, and innovative services that empower people to build better lives for themselves, their families, and their communities.
The choreography and professional dancers will be provided by the Arthur Murray Dance Center. Don't miss your chance to be a part of this fun and entertaining event for a great cause! And spread the word to your family and friends to vote for Dr. Norris!