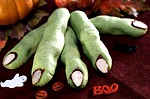 We've been celebrating the American Association of Orthodontists' National Orthodontic Health Month on the blog through Fall inspired recipe ideas, the Candy Buy Back program Dr. Norris offers his patients, and other information related to healthy teeth, gums and orthodontia. This Friday we are happy to offer you some fun treats to make for your upcoming Halloween party that will be safe for the brace-faces on your guest list!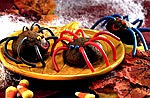 Click the pictures on the right for a print-friendly recipe will open in a new browser detailing instructions on how to make the Frightful Fingers, Spider Bites or the Slimy Lime Fruit Punch. Come back and leave us a note telling us how amazing the recipes turned out. If you have a favorite brace-friendly recipe, feel free to leave it in the comment section below.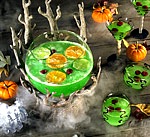 Many thanks to Pam Waterman, author of The Braces Cookbook. You can find more amazing brace-friendly recipes in either of her cook books. Come back to the blog next Friday, October 28th, for a few more fun recipes for your Halloween party!