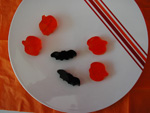 Stone Oak Orthodontics would like to offer one last blog post related to Fall/Halloween inspired recipes. Halloween is just around the bend and kids will be blinging out their costumes, parents will be finalizing the plans for the weekends and guests will be anticipating the parties they are attending. Make sure your Halloween party includes orthodontia-safe recipes for the goblins and ghouls at your private Monster Mash!  Thanks to the American Association of Orthodontists' National Orthodontic Health Month and Pam Waterman, author of The Braces Cookbook, for making these recipes available to everyone! You can find more amazing brace-friendly recipes in either of her cook books.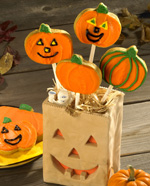 Click the pictures on the right for a print-friendly recipe will open in a new browser detailing instructions on how to make the Black-Cherry Fruit-Bats and Citrus Orange Pumpkin Fruity Cutouts, Pumpkin Cookie Pops, Spooktacular Pumpkin Cake.
Check out our previous blog posts with additional recipes:
Frightful Finger Cookies
Pumpkin Chocolate-Chip Softies
Slimy Lime Fruit Punch
Spider Bites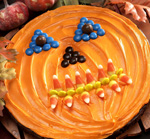 As we've been saying….come back and leave us a note telling us how amazing the recipes turned out. Better yet, if you make more than you need, feel free to drop some of these freaky treats off at the office! If you have a favorite brace-friendly recipe, feel free to leave it in the comment section below.