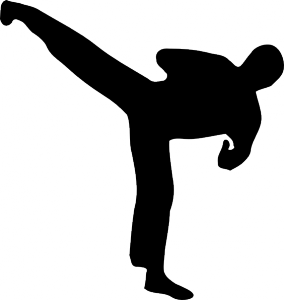 A meeting at Stone Oak Orthodontics in early April featured several staff members throwing elbows, punches, and kicks. Thankfully, no one was injured during the meeting. What could possibly make such a friendly group of women starting throwing haymakers?
A self-defense class! The great folks at Close Contact Tactical were brought in to teach a seminar on protecting against assault. The session was arranged by one of the Close Contact Tactical instructors, Doug, who also happens to be a patient at Stone Oak Orthodontics.
It is important for our excellent team of orthodontic professionals to know how to protect themselves. That is why we brought in some experts to help our team stay safe! A crucial part of self-defense is being physically fit, as some of the techniques are tougher than they look.
"Although I consider myself in shape," said our marketing coordinator, Linda, "it was difficult to defend myself using the correct amount of force to the attacker's weak spots."
One of the basic lessons in self-defense is "S.I.N.G." which stands for "Solar plexus, Instep, Nose, Groin." These are specific areas to target on your attacker when defending yourself. You may remember that acronym from Sandra Bullock's character Gracie in the movie Miss Congeniality.
For more information on Close Contact Tactical or to schedule your own training with one of their certified instructors, visit their website at http://www.close-contact-tactical.com.