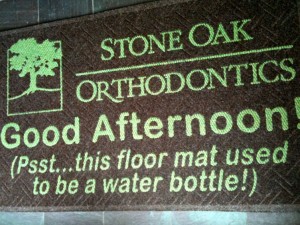 With Cyber Monday being the busiest shopping day of the year for online retail sales, Stone Oak Ortho would like to offer a friendly environmental plea to go green with your green! Americans have a choice, today, to  not only spend thriftily, but to spend intelligently. We, as a collective society, have the opportunity to make a difference in our world through spending smart by spending clean. Dr. Norris believes in this principle and incorporates it into his clean energy office. He has a commitment to reduce the carbon and ecological footprint produced at his high-tech orthodontic practice in San Antonio, Texas. We have blogged about his solar panels, and wind energy before. We have shared with our readers the simple procedure in the office that work to reduce our wastes and consumption levels. And we would like to encourage all our readers to do the same, even on Cyber Monday!
For example, this environmentally friendly floor mat that graces the entry way of our office, is made up of recycled plastic bottles. We LOVE this mat! We love the message on this mat: a friendly reminder to all of our wonderful patients and families that going green is completely doable! If you've been thinking of buying a new outdoor mat to stomp your feet around on this wintery season, or as a present to that certain someone in your family who has everything under the sun, check out Mad Mats, available at Amazon.com. They are made out of 100% recycled plastic and the are absolutely beautiful! (Ours is customized, obviously, but the Mad Mats products are artfully designed floor mats that will bless any home with color, art, and clean living!)
Thursday consumers spent well over $1.2 Billion on Thankgsiving dinner. Black Friday's consumers enjoyed all the shopping extravaganzas to a tune of 11.6 BILLION dollars! Today brings in our country's newest consumer celebration: Cyber Monday! Did you know that in 2010, Americans spent $1.028 Billion on cyber steals and deals. There's no telling what the numbers will reveal tonight about our country's love affair with spending our hard, earned money on…stuff.  Before you spend your green, try going green!!  Below is a list of online retailers specializing in environmentally friendly products AND offering Cyber Monday deals!
Inhabitat: 50% off flash sale on handmade eco designer handbags; ends Dec. 1
Natural Home: 50% off everything through 11/29 with coupon code "MMEEMAB6?
Kaight NYC: Enjoy 30% off and free shipping with code "thanks30?
Nimli: 25% off site wide with code "CYBERMONDAY10?
Pure Citizen: 24 conscious companies at up to 90% off! From goodsociety organic jeans to J.Fein Designs, PACT underwear, Spun clothing, Ashley Watson, Cri de Coeur and more.
Hessnatur: 25% off site wide, plus free shipping on all orders until midnight 11/30! Use code "MSA255?
BTC Elements: 20% off all eco-jewelry through 11/29 with code "ecogift"
Planet Threads: 25% off through 11/29, no code needed
Eden Home: 15% off one item with coupon code "CM15?
Eco Tobi: 30% off regularly priced items through 11/29 with code "thanks30?
Gaiam: 15% off your entire order with coupon code "ACFM15?
Ecomom: 33% off the entire store through 11/29. Use code "33OFF"
Gretchen & Grace: 50% off your entire order through 11/29 with coupon code "GIVETHANKS50?
Nau: Until Dec. 6, order two or more styles from the men's or women's gift sections and get 25% off the grand total with code "2FOR25?
Squishy Press Books: 20% off site wide with code "20OFF" at checkout