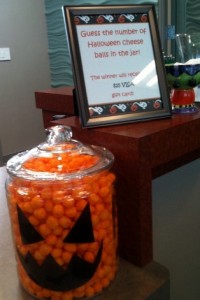 Stone Oak Orthodontics is celebrating the cooler weather and the wonderfully fun Halloween season that is upon us. Dr. Norris and staff would like to honor all the young (and old) tricker treaters out there with a Fall In-Office Event during the month of October. We have brought back our "guess the number of items in the jar" contest!  Next time you are in the office, please stop by the front desk and put those math estimating skills to work!  Take a good look at our Great Cheese Ball Pumpkin Jar and drop a note to let us know how many cheese balls you think fill up Mr. Pumpkin Head!
Parents, patients and guests are invited to participate. The contest will end on October 31st. Drop a note at your next appointment, or pop by the office to toss in your best guess.
The winner will receive a $25 Prepaid Visa Gift Card!
Wondering how you can get in on this contest if you are not a patient, parent or guest of a patient at Stone Oak Orthodontics? Are you considering orthodontic work for yourself or a family member? Stop by Stone Oak Orthodontics today or give us a call at (210) 402-3322 to find out more information about our state of the art orthodontic facility in San Antonio, TX. New patient evaluations are always free and can include a complimentary panoramic x-ray, evaluation with Dr. Norris, and a free estimation detailing the cost of orthodontic work if it is warranted. We're looking forward to helping you get the best smile possible! Give us a call today!